Email threads in automations
We've been working hard the past week to add support for email threads in automations. Today we're super excited to announce that email steps can now be sent as replies to previous emails, resulting in beautiful threads that delivers context to your recipient. Read more below, or try it out yourself on Wobaka.
💌 Why send emails in the same thread?
While we recommend spending time crafting your follow up email sequence, sometimes you just want to send a simple nudge to someone. In that case, it's useful to include some context in the form of your previous email. For example, this feature will make the following sequence seamless to create:
Send first email
Wait 2 days
Send as a reply in the same thread something like: "Hey X, Have you had the time to check this out? I'm available for a quick call anytime next week". The previous email will be included in the same thread and quoted below this message.
Wait 3 days
Send a follow up email as a new thread
Etc...
Pretty sweet, don't you think? Keep reading to find out how to get started.
👀 How it works
If you want an email step to be sent in the same thread as the previous email, you can leave the box "Send as new thread" unchecked. You'll notice that the subject is disabled and automatically populated as a reply to your previous email.
This also works for multiple emails so you can create longer reply threads if you want to. By default, emails are set to be sent as a new thread. No need to worry about your current automations.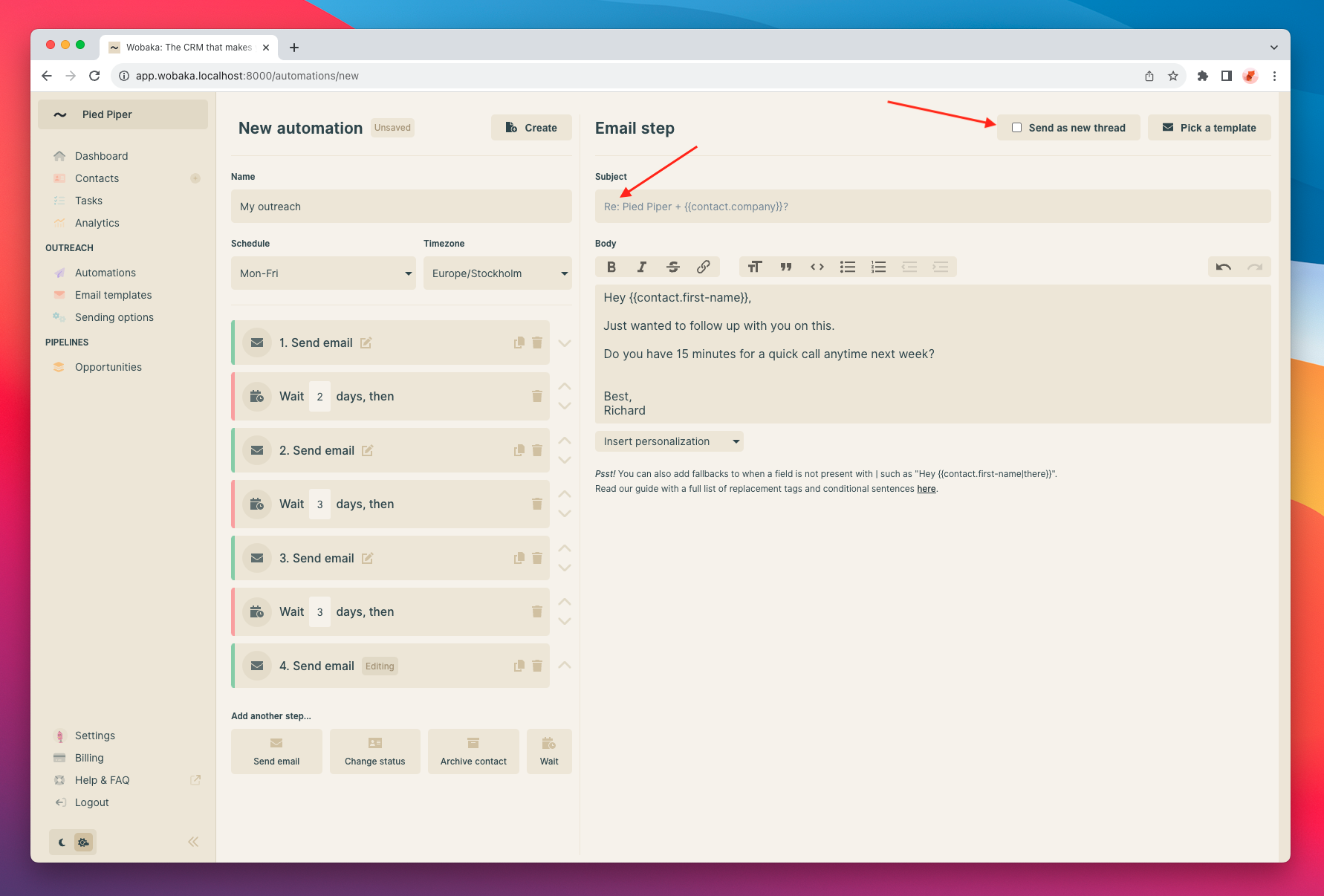 🔮 What's next?
We've been busy working on improvements for automations lately. Next up we'll be focusing on other areas of the system, and we've got some great things cooking. What do you think we should work on next? Let me know on [email protected].