Faster search, named opportunities, editable notes and more!
I'm super excited to share the latest improvements to Wobaka with you. During the past few weeks we've made the contact search 9x faster, designed better pipelines, made it possible to edit notes and more. Keep reading for details.
🔎 Faster search
Contact search is now a whopping 9 times faster (on average around 8.9x) going from sometimes more than a second to just milliseconds! A huge performance bump that really helps when you want to find information about a contact quickly. Just start typing ⚡️.
As usual you can search for anything like contact info, todos, notes, even text in emails. The indicator on each contact shows you how each search result matched your query.
🏷 Named opportunities
You can now name your opportunities. This is super useful to better organize deals in your pipelines, especially when you have multiple opportunities for a contact.
Naming opportunities is optional and if present, the name will be shown on the opportunity card by default. If there's no name the company and contact name will be shown instead.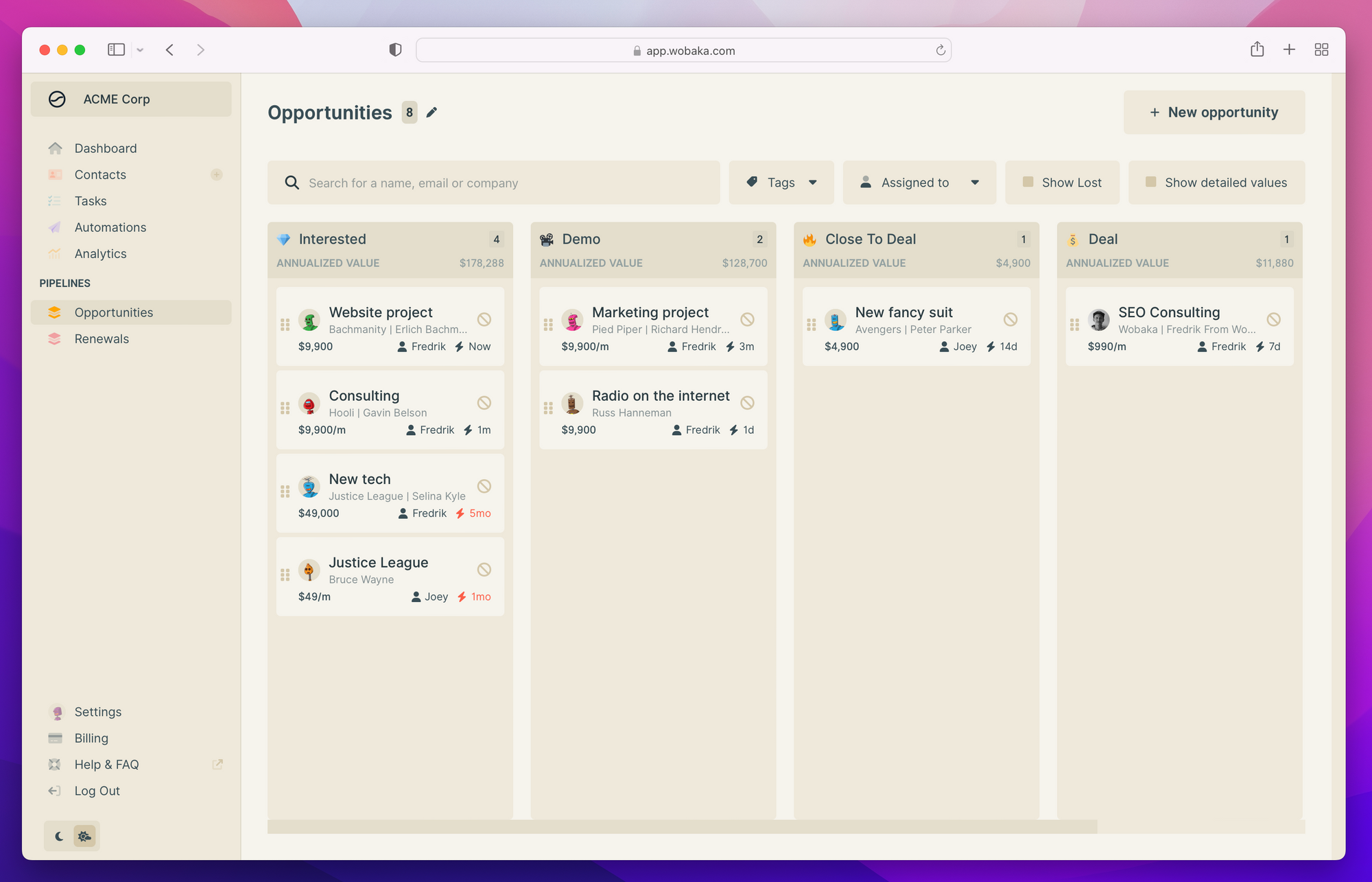 📝 Editable notes
We all make misstakes. Sometimes in contact notes. Now it's super easy to edit them instead of creating another one.

⚡️ Icon indicators
Icon indicators show you what information or activities exists on contacts. They can tell you if the contact has any opportunities, notes, messages or running automations. You will now see an explanation of each icon when clicking the information button at the top of the column.

🔮 Next up
That's it for now, but we've got plenty of exciting things cooking. What do you think we should work on next? Let me know on [email protected].
Not yet on Wobaka?
Missing follow-ups because your spreadsheets turned into a mess? Stuck in a CRM that is so bloated it actually makes you less productive? Don't worry, we've got your back. Sign up for a free 14 day trial, no credit card needed!